Schedule:
24 hour practice ends at 6am Saturday morning.
Qualifying Round 1 begins 6:30am Saturday
Format: 2 rounds of qualifying
7 minute qualifiers
Rocket Round -- keep your best 1 of 2 rounds
Re-Sort after Round 1
QUAL 2 WATERING SCHEDULE:
Before Race 12, race 30, and race 49
Joker lane notes:
You can use the Joker Lane once per qualifying round.
You CANNOT use it on first lap NOR your out-lap/warmup lap.
During mains, you can use it once per 10 minute length of main.
If your main is 10 minutes, you can use joker lane any lap other than the first.
If you have a 20 minute main, you can use it twice, at any points during the race *except* the first lap. You do not have to wait 10 minutes between uses.
Awards will be presented immediately after each A Main.
16 max on drivers stand. Mains will be 14 + 2 bumps.
Qualifying round 1 is posted at
racetime.liverc.com
CURRENT EVENT INFO
Track Water Schedule is posted on Facebook.
Friday: 9am, 12pm, 3pm, 6pm, 9pm. 30 minute breaks for water.
Saturday: 12am, 3am, 6am.
Qualifying water schedule: TBA
Registration is open until 10pm Friday night, with some breaks.
Registration is by the front entrance to the facility by section A.
Raffle info available
on this page
Food Truck Schedule:
BBQ truck will be here from 5:00pm-7:00pm Friday.
Food truck with hamburgers fries Philly cheese steaks onion rings and funnel cakes will be here:
Saturday from 11:00am-2:00pm then back from 5:00pm-7:00pm.
Sunday from 11:00am-2:00pm.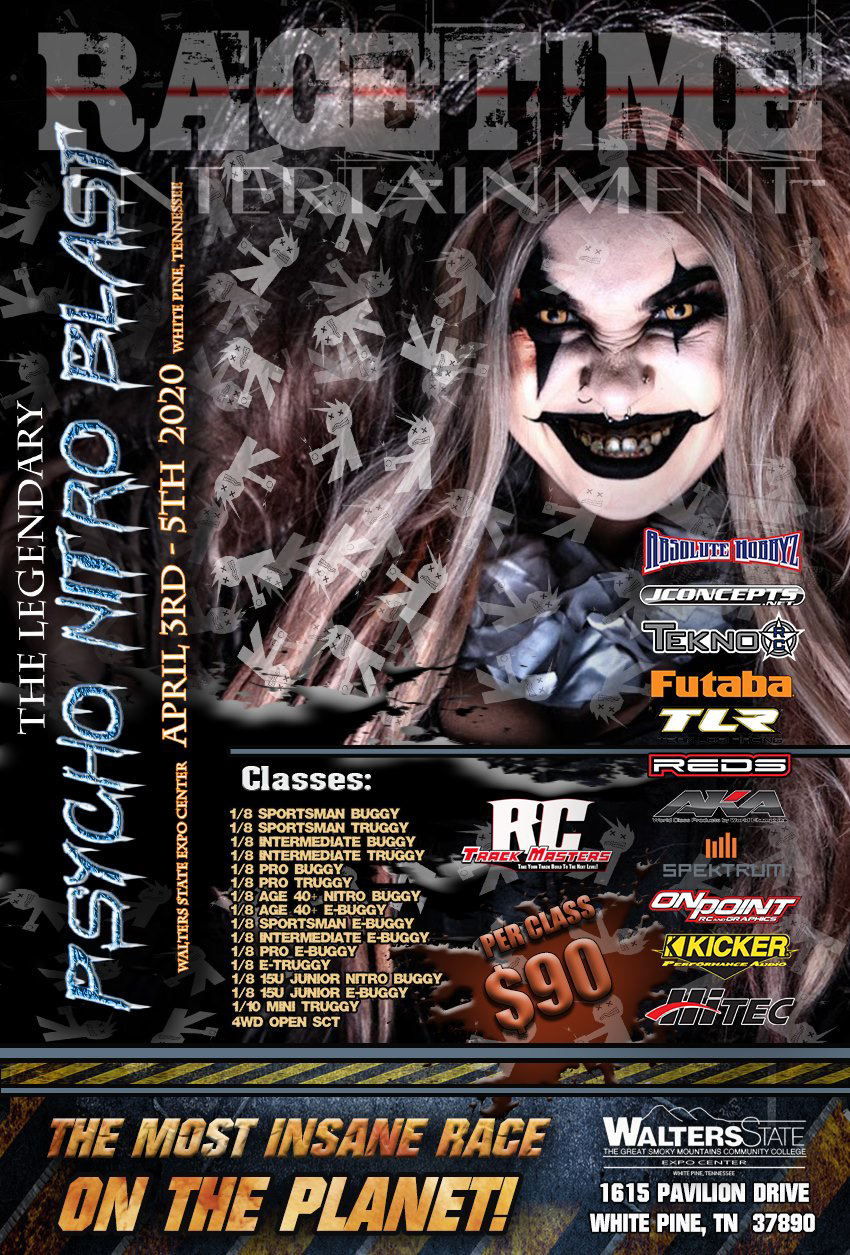 The most insane race on the planet!
24 hours of practice
Massive track layout
Signature wooden ramps
Home of the Rocket Car Long Jump
HOST HOTEL:
We are pleased to announce the continued partnership with Econo Lodge as our 2020 Host Hotel. Please call them Directly and mention Psycho Nitro Blast to reserve the special event rate of $69.99
ECONO LODGE
3670 Roy Messer Hwy
White Pine TN 37890
1-865-674-2573
$69.99 Per Night
DETAILS
Location:
Walters State Great Smoky Mountains Expo Center
1615 Pavilion Dr
White Pine, TN 37890
Airport:
McGhee Tyson Airport
Code: TYS
2055 Alcoa Hwy
Alcoa, TN 37701
Golf Cart Rental:
C&C Golf Carts
423-254-1954
They will deliver to the PNB Facility!
When looking for a great selection of stores, food, or anything else please search in the town of Morristown TN. Its roughly 10 minutes from the track.
Don't forget that DollyWood is roughly one hour from the PNB facility and is a great place to take the family before or after the event. One of the best amusement parks in the country!